Description:
The Class II A2 Biological Safety Cabinets released by ZHICHENG are designed to protect personnel, sample, the environment from exposure to biohazards agents of low to moderate risks that require Biosafety Level 1, 2 or 3 containment. The Cabinets provide the following three basic types of protection for work in the life science, clinical and pharmaceutical fields.
◆ Personnel protection from biohazards agents inside the cabinet
◆ Sample protection to avoid contamination during experiment or process
◆ Environmental protection from contaminants contained within the cabinet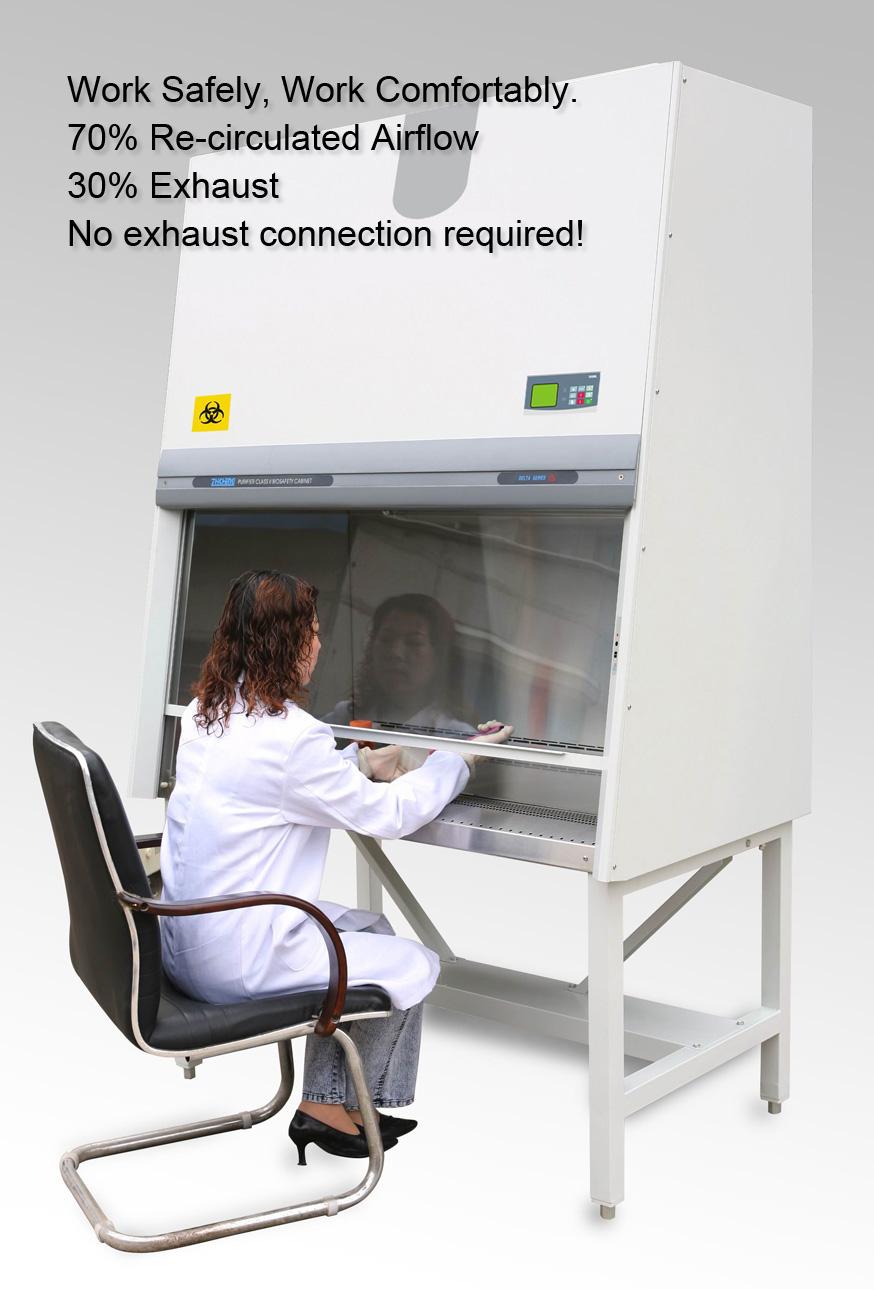 The Biological Safety Cabinets incorporate a number of features include:
● Built-in sash position alarm that is triggered when the sash is raised above its operating height.
● Room air is drawn into the perforated front grille through a front access opening with carefully maintained inward airflow.
● Approximately 70% of the air recirculates through a supply ULPA filter and 30% exhausts through an exhaust HEPA filter.
● An integral alarm system constantly monitors the volume of air exhausted. Should the exhaust air volume drop below an acceptable level, an audible and visible alarm triggers, and the blower stops.
● Intrinsically safe negative pressure design captures any contamination, preventing its escape into the laboratory.
● Interlocked UV light only operates when blower and fluorescent light are off and sash is fully closed.
● 10° sloped, tempered safety glass sash for less glare and more comfortable viewing.
● One-piece, crevice-free type SUS304 stainless steel interior minimizes the potential of any leaks.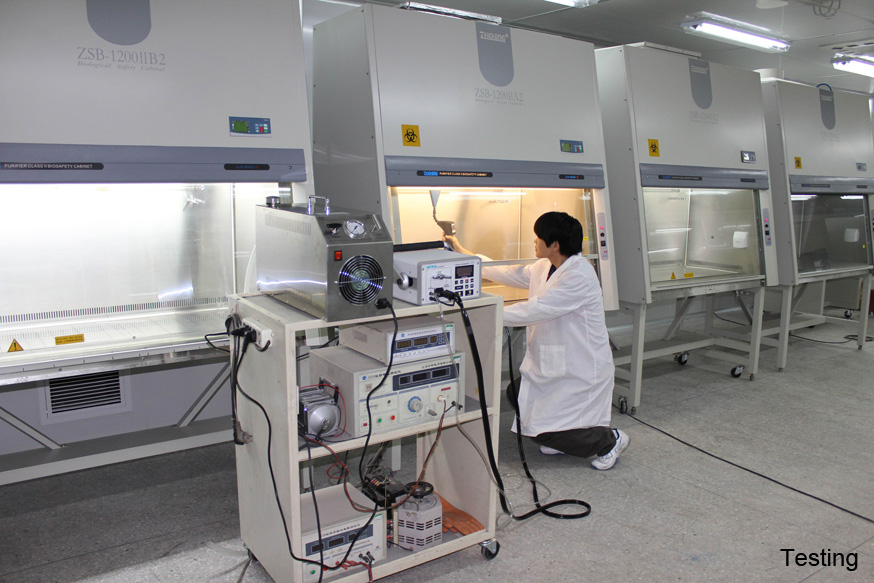 Technical Specifications
Models

ZSB-900 II A2

ZSB-1200 II A2

ZSB-1500 II A2

ZSB-1800 II A2

Category

Class II, Type A2

Airflow Mode

70% air recirculated, 30% exhausted

Setting

Digital

Display

LCD

Operating Condition

@ ambient 10-30 degree.C, RH humidity

≤

85%,

air pressure 80-105Pa

Inflow Air Velocity

Nominal 0.5~ 0.6m /s

Downflow

Air Velocity

Nominal 0.35m /s (±0.015)

Sash Opening

200mm

(± 5mm )

Sash Control

Manually-controlled

Supply Filter Type (main)

ULPA

Supply Filter Efficiency

≥99.999%@0.1-0.2µm

Exhaust Filter Type

HEPA

Exhaust Filter Efficiency

≥99.999%@0.3µm

Illuminating

≥

650Lux

Disinfection

UV Light

Noise

≤67dB (A)

Alarms

ULPA/HEPA filter monitoring alarms

Power Supply

AC 220V 50/60Hz

Workarea

Dimension

930x635x655

(mm)

1230x635x655

(mm)

1540x635x655

(mm)

1840x635x655

(mm)

External Dimension

1120x805x2270

(mm)

1420x805x2270

(mm)

1730x805x2270

(mm)

2030x805x2270

(mm)

Power

550W

660W

800W

1100W

Net Weight

205kg

250kg

295kg

350kg